Vice President Kamala Harris Visits the Northeast Bronx YMCA
22 October 2021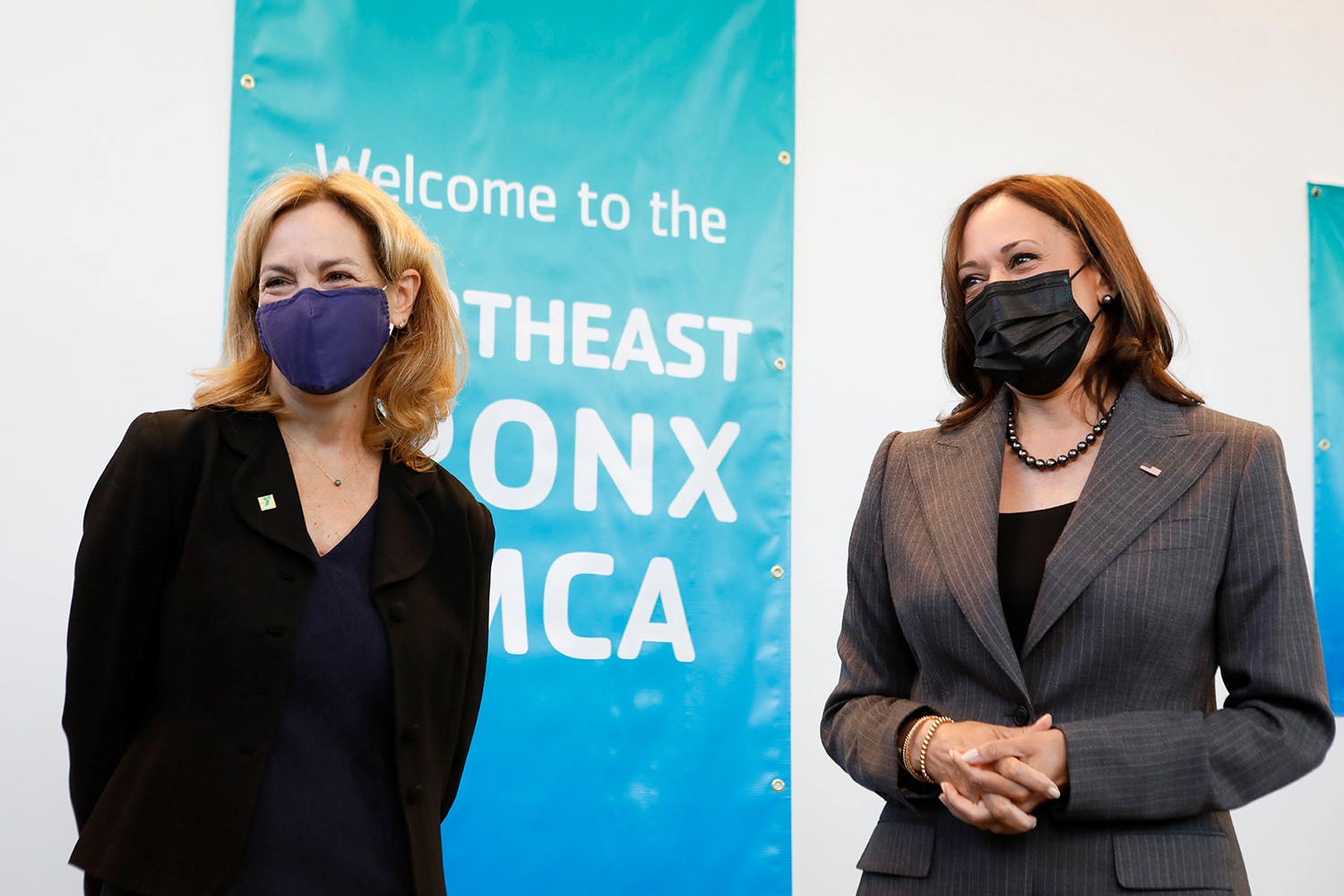 Today, Vice President Kamala Harris visited the Northeast Bronx YMCA to highlight the importance of community centers and to advocate for the passage of the Biden Administration's "Build Back Better" agenda. Vice President Harris was joined by U.S. Secretary of Health & Human Services Xavier Becerra, NY Governor Kathy Hochul, U.S. Representatives Jamaal Bowman and Alexandria Ocasio-Cortez, NY Assembly Speaker Carl Heastie, New York City Mayor Bill de Blasio, and many more city and state elected officials.
Before the event, Vice President Harris took time to meet with Sharon Greenberger, President & CEO of the YMCA of Greater New York, and four staff members at the brand-new Northeast Bronx YMCA.
"It's good to be at the Y! I've worked with the Y for years, and I'm a member of the Y," said Vice President Kamala Harris. "When I look out across this room and see these young leaders, I see your determination. I see your resolve. President Biden and I see you, and we fight for you."
"Over the last 18 months, New York City's YMCA branches have played a critical role in the recovery of the communities we serve and the city we love," said Sharon Greenberger, President & CEO of the YMCA of Greater New York. "As an organization rooted in neighborhoods throughout all five boroughs of New York City,  we are grateful for Vice President Harris and the Biden Administration's strong support for nonprofit community service organizations like the YMCA, and their deep understanding of the power and impact of community centers. The assistance this Administration has provided to our sector since January has been deeply impactful. We are proud to partner to help all New Yorkers improve their health and well-being, strengthen their communities, and reach their full potential."
The Northeast Bronx Y is a state-of-the-art 50,000 square foot facility built amid a three-acre "urban forest" that officially opened in September. The branch was developed in partnership with a broad coalition of community leaders and elected officials in response to the critical need for a community hub and the wide array of educational, cultural, social, and health programs and services that the Y provides to New Yorkers of all ages. The Northeast Bronx Y features a teaching kitchen, urban agricultural roof, two pools, modern fitness and wellness centers, and protected outdoor play and program spaces for enhanced camp and afterschool programs.
###