Celebrating Black History Month at the Harlem YMCA
12 February 2020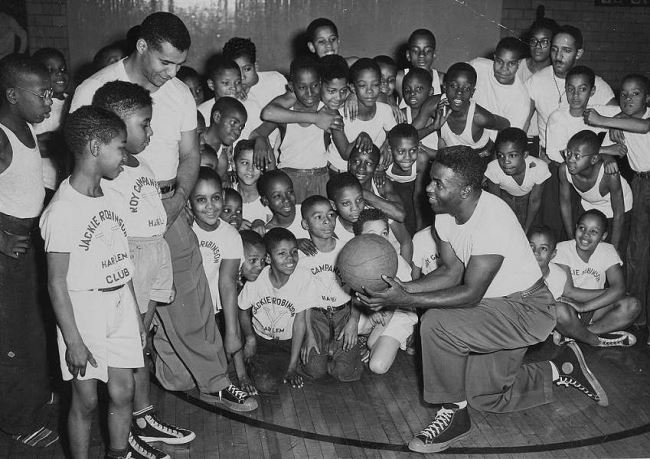 Black History Month is a yearly celebration of achievements by African Americans and the central role they've played in U.S. history.
At the Y, that started with our Harlem branch on 135th Street, which first opened in 1919 and expanded to a larger building (the current location) in 1933. At the time, the new branch was the world's largest YMCA serving African-American men and boys.
The Harlem Y has been called "the living room of the Harlem Renaissance," a cultural, social, and artistic movement in the 1920s and 30s that brought African-American art, music, literature, theater, and political thought into the forefront of American culture.
Here's a short history of a few notable black writers, actors, artists, athletes, and other icons who walked through our doors and connected with the Y.
1.) Jackie Robinson
Robinson (above) became the first African-American to play Major League Baseball in 1947. But in the offseason, he and teammate Roy Campanella worked for a decade as counselors and coaches with the Harlem Y's Boys' Division. "We are both crazy about children," said Robinson, who inspired legions of boys to sign up during his tenure. 
2.) Langston Hughes
One of America's most famous poets, Hughes was a leader of the Harlem Renaissance. While attending college, Hughes lived at the YMCA, where he met several other famous writers, including Ralph Ellison and Richard Wright. One famous poem, below, mentions the Y.
Theme for English B
The instructor said,
      Go home and write
      a page tonight.
      And let that page come out of you—
      Then, it will be true.
I wonder if it's that simple?
I am twenty-two, colored, born in Winston-Salem.   
I went to school there, then Durham, then here   
to this college on the hill above Harlem.   
I am the only colored student in my class.   
The steps from the hill lead down into Harlem,   
through a park, then I cross St. Nicholas,   
Eighth Avenue, Seventh, and I come to the Y,   
the Harlem Branch Y, where I take the elevator   
up to my room, sit down, and write this page:
Read the full poem here.
3.) Wesley A. Williams
You may have noticed his statue in the Harlem YMCA lobby. Williams became the nation's first African American fire chief in 1938 and was a dedicated Harlem Y member for more than 60 years. "The Chief," as he was affectionately known, was a versatile athlete, excelling in basketball, swimming, handball, running, and weight lifting. 
The grandson of a slave, Williams served as the pre-eminent role model to other firemen of color. His desire to reach out to other blacks in his field inspired Williams to found the Vulcan Society in 1940, which today serves as a fraternal organization for African Americans in the Fire Department. 
Williams served in the FDNY for 33 years before retiring in 1952. His connection to the YMCA continues today. His granddaughter, Margaret Stokes, is a Harlem Y member and is setting up a basketball scholarship for young boys and girls in the Chief's name. (Click here to donate.)
4.) Cicely Tyson
Many famous playwrights and actors launched their careers in the Harlem Y's "Little Theater" program, including Paul Robeson, Sidney Poitier, James Earl Jones, and Cicely Tyson, who appeared in her first play, "Dark of the Moon," on the Harlem Y's stage in the 1950s. Tyson's career continues to this day. She's the winner of Academy, Emmy, and Tony Awards, and in 2016 received the Presidential Medal of Freedom, our nation's highest civilian honor.
5.) Ralph Ellison
Ellison's Invisible Man won the National Book Award in 1953 and is considered one of the most important works of fiction in the 20th century. In the book, a young black man from the South moves to Harlem and lives in a "Men's House," a residence modeled after the Harlem Y where Ellison lived and worked as a waiter when he first migrated to New York.