Putting Youth on a Path to Success
01 October 2017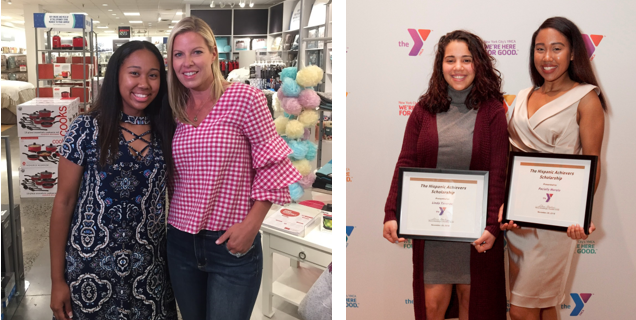 In middle school, Pacielly Morelo joined a free dance class at the Flushing Y. She felt comfortable and at home at the branch. Soon after, with staff encouragement, the shy teenager signed up for Leader's Club, Youth & Government, and Rowe Scholars. This fall, she was the first in her family to go away to college
"I started at the Y when I was very young," said Morelo, "and it changed my life." Morelo was a quiet kid, especially in the classroom. When she was five, her mother died from cancer. "It was hard for me to express myself after that," she said.
But Y staff members noticed her, and encouraged her to participate in the branch's teen programs, many of which Morelo never pictured doing. The Y taught her public speaking and helped prepare her for college. "It became a place I would go every day even if I didn't have a program to go to," Morelo said.
Melinton Badillo, Assistant Director, Flushing YMCA Beacon Center, served as Morelo's academic mentor at the Y and helped her fill out college applications and financial aid forms. "Pacielly really wanted to do something great with her life, and her passion and her drive only increased over time," he said. "She's dedicated and motivated, and she's a great role model for our teen programs."
Morelo, now 18, is a freshman at the University of Albany. She wants to become a nurse. She and her older brother were raised in Queens by her father, a Colombian immigrant who raised them as a single parent. Growing up, Morelo shared a room with her brother and a cousin.
Recently, while enrolled in a special summer program, Morelo appeared on The Today Show as part of a dorm room makeover sponsored by JCPenney. NBC decorated her dorm room with a colorful comforter, throw pillows, and family photos and curtains to give it a homey feel. 
"My father wasn't able to attend college," Morelo told The Today Show. "When my dad came here, he decided he wanted to build a better future for me, to give me opportunities that he didn't have when he was younger."
Joe Vereen, Morelo's Beacon director, said "Pacielly is that kid that never gives up." Morelo kept coming back to the YMCA, Badillo added, because she understood the value of its programs. "She saw everything we had to offer. Her drive, plus the help the Y has given her, has helped her get as far as she has."