U.S. Soccer Foundation & Coalition of YMCAs Team Up to Positively Improve the Health and Well-Being of 1 Million Youth by 2026
27 April 2023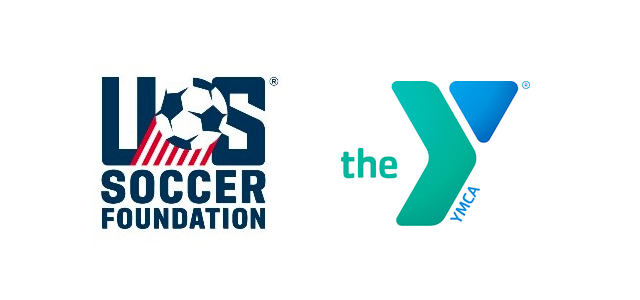 Washington, D.C. – Today, the U.S. Soccer Foundation and 16 YMCAs across the USA, including those in the 11 U.S. World Cup Host Cities, announced a joint campaign, The Road to 2026: Making an Impact in Local Communities, to increase access to soccer and its health and wellness benefits to at least 1 million youth in advance of the FIFA World Cup 2026™ in North America.   
"This joint campaign provides an opportunity to drive the change that really matters in communities—improved health and well-being of young people," said Ed Foster-Simeon, President & CEO of the U.S. Soccer Foundation. "While the world's largest soccer event is coming back to the U.S., what is most important is that we can use that excitement and momentum around soccer to make a transformational impact on youth and communities that will last for generations to come." 
"At the Y, we are committed to providing safe places for youth in our communities to play and develop healthy bodies, minds, and spirits," said Loria Yeadon, President & CEO, YMCA of Greater Seattle. "The thrill of the 2026 FIFA World Cup is a perfect opportunity to get our youth moving and excited about soccer. On behalf of the 16 participating Ys, we are thrilled to team up with the U.S. Soccer Foundation to realize our shared mission to improve health outcomes for all youth, especially those in underserved communities who need us most. Activating our collaboration on Healthy Kids Day, Saturday, April 29th, the Y's annual national day of celebration, is the perfect opportunity to improve the health and well-being of youth and families."
The 16 participating Ys include:  
Greater Austin YMCA 
Greater Philadelphia YMCA 
Hockomock Area YMCA 
YMCA of Greater Boston 
YMCA of Greater Cincinnati 
YMCA of Greater Houston 
YMCA of Greater Kansas City 
YMCA of Greater New York 
YMCA of Greater Seattle 
YMCA of Metro Atlanta 
YMCA of Metropolitan Dallas 
YMCA of Metropolitan Los Angeles 
YMCA of the North  
YMCA of San Francisco 
YMCA of San Diego 
YMCA of Silicon Valley 
The U.S. Soccer Foundation and participating Ys will join forces to provide access to soccer programming to help develop the physical, social, and emotional well-being of our youth and expand safe places for them to play soccer across the country. The collaboration will include Ys offering the Foundation's Soccer for Success after-school program and Just Ball League, where appropriate, as well as the installation of mini-pitches. The Foundation and Ys will also work together to train coaches in high-quality mentorship and youth development principles to foster positive, inclusive, and safe experiences for youth.  
To launch the partnership, and in honor of Healthy Kids Day, the U.S. Soccer Foundation and the Ys are offering the U.S. Soccer Foundation's Coach-Mentor Training on April 28 and 30 to all branches in the partnership and celebrating the opening of a mini-pitch at the YMCA of Greater Seattle's Auburn branch on April 29th. Both the April 28th and April 30th training will be offered virtually so that other staff, volunteers, and members of partner Ys across the country can also take part. Please contact your local Y to register for this opportunity. 
The Foundation's Coach-Mentor Training helps coaches build their skills to serve as mentors and provide more positive youth sports experiences. Coach-Mentor Training also helps coaches learn how to work effectively with youth in and from underserved communities and create a positive team culture that reflects the diversity of the youth they serve. This is especially critical when coaches work with young people of varying racial, gender, and socioeconomic backgrounds and ensuring the health and safety of youth sports participants. 
Soccer for Success has been found to improve health outcomes and social and emotional well-being. Data show that 88% of participants work better on a team, 86% stay away from anti-social behavior, and 83% have improved health outcomes. The U.S. Soccer Foundation's Just Ball League, created with adidas and launched in New York City and Los Angeles in fall 2022, uses mini-pitches and other community hubs to create opportunities for league play at the neighborhood level while removing barriers, such as transportation and cost, that often prohibit children in underserved communities from playing the game. 
Community surveys show that mini-pitches also offer a wide array of community benefits in addition to increased playing spaces. Ninety-nine percent of those living in communities with mini-pitches say that people in their community are more active after the installation of a mini-pitch, 98% say that their community feels safer after the installation of a mini-pitch, and 91% say that their mini-pitch serves as a community hub. 

About the U.S. Soccer Foundation  
The U.S. Soccer Foundation's programs are the national model for sports-based youth development in underserved communities. Since its founding in 1994, the Foundation has established programs proven to help children embrace an active and healthy lifestyle while nurturing their personal growth beyond sports. Its cost-effective, high-impact initiatives offer safe environments where kids and communities thrive. Headquartered in Washington, D.C., the U.S. Soccer Foundation is a 501(c)(3) organization. For more information visit www.ussoccerfoundation.org or follow us on Twitter, Facebook, and Instagram. 

About the Participating Ys 
For over 170 years, Ys across the country have been helping youth and families reach their full potential in spirit, mind, and body. The Y empowers everyone, no matter who they are or where they're from, by providing access and opportunities for all to learn, grow, and thrive. We provide a place to play, to be healthy, and to give back. We give parents childcare, young adults job training, seniors a way to connect, and children a safe place to go. By bringing people together from different backgrounds, perspectives, and generations, the Y improves overall health and well-being, ignites youth empowerment, and connects and supports diverse communities across the United States.  The Ys provides crucial programs and services to more than 1.2 million people every year. With the help of generous donors and sponsors, we are able to provide financial assistance to more than 80,000 youth to ensure everyone has a chance to succeed and belong at the Y. Click here for more information about the participating Ys and follow us on Twitter, Facebook, Instagram and LinkedIn.   

Media Contacts 
Jennifer Arnold, U.S. Soccer Foundation, jarnold@ussoccerfoundation.org 
Ronnie Tucker, YMCA of Greater New York, rtucker@ymcanyc.org